You may have seen this product if you've been on the hunt lately for countertop material. It's dramatic and very authentic-looking despite its man-made label. It's thin, sleek, sexy and leaves a powerful image in any consumer's mind. Welcome to the latest, greatest large-format surface –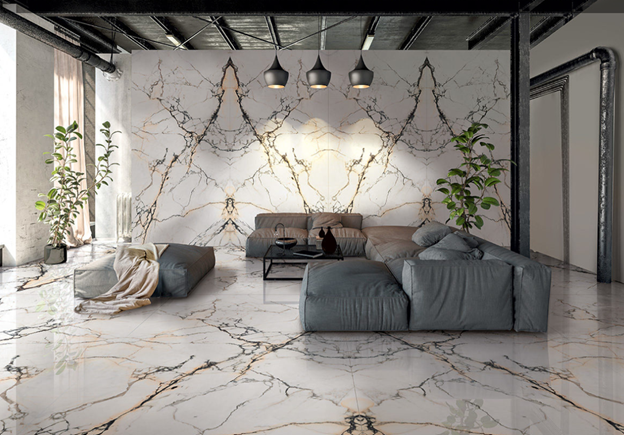 PROCELAIN SLABS!
To understand the arrival of this product into the market, let's look back at that tried & true product, Quartz! This was designed and introduced into the U.S. market around 2005. At that time, quartz had little influence on the countertop industry. Natural stone was the dominant sought-after material.
However, by 2011-2012, it had increased to a remarkable share of 50-60% of new home development. Why? The reasons were simple: builders loved the simplicity and consistency of the material, and fabricators had gotten used to cutting and installing it. It took an evolution of marketing and flawless performance in the home to convince fabricators to add this to their regular repertoire of installations. Today, quartz makes up about 30-40% of all countertop installations. Caesarstone, the original manufacturer of quartz, and largest in the world, has spawned a plethora of other quartz companies in their wake.
And, so goes Porcelain. This European-based product, using a slim 6-12mm thickness has been in use there for the last 5-6 years. It has a shorter reputation here in the U.S. with only about two years of testing in our market. So, like quartz' beginnings, it is still finding its way into our homes and offices. It is a product that can be used both indoors or out just like a porcelain tile. They clad commercial buildings in Europe to create beautiful enduring edifices. With this in mind, this sophisticated precision-made product is extremely reliable: hard-scratch resistant, heat resistant, water repellent, stain-resistant, wear resistant, UV resistant, impact resistant, ease of care and gorgeous to boot! The stunning marble images on this material is achieved by high-resolution photography of the actual marble.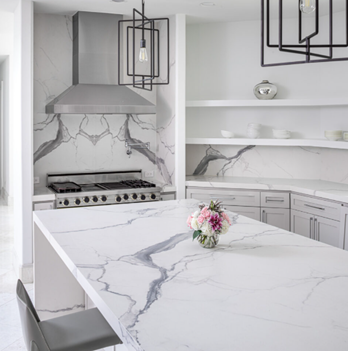 Thus, anyone looking to achieve the current design trend of marble with the durability of granite or quartzite can now consider Porcelain slabs.
Builders, contractors and especially fabricators are only beginning to recognize its value as a large-scale surface material.  Fabricators are continuing to hone their craft in cutting and installation techniques, as it does require special blades and care in working with it.  Right now, in this market, it is considered a "status" look, being used in high-end homes.  However, once the housing market slows, more fabricators will turn to specifying it for more mid-range homes, as more homeowners are exposed to its beauty and durability.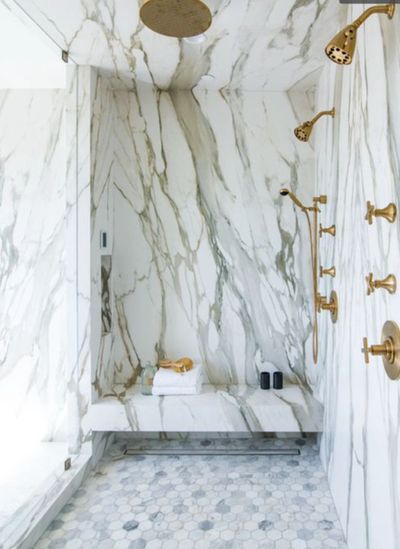 The applications for home use are endless. Due to its slim profile, porcelain is perfect for shower walls, fireplace facias, range hoods, countertops and even floors. Imagine these areas of your home that have no grout lines to contend with and clean. Instead, you will have a seamless installation with little fabrication costs.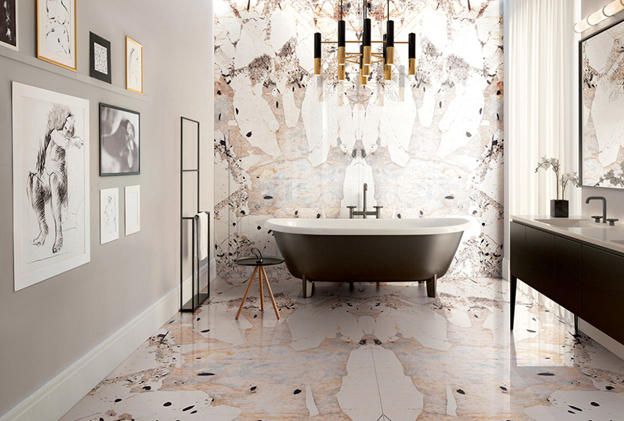 For kitchen use, porcelain slabs are ideal. At measurements ranging from 59×126 to 63×127 they cover similar seamless areas as many natural stones. Backsplashes are a breeze with the material measuring the same thickness as a tile, 12mm (1/2"). Many of these slabs are book matched, allowing for a seamless vein pattern both on counters as well as backsplashes. Edge treatments are available as a mitered lamination to mimic the thickness of a natural slab, or a simple bevel to take advantage of the narrow profile.
BATH KITCHEN LIVING ROOM FLOORING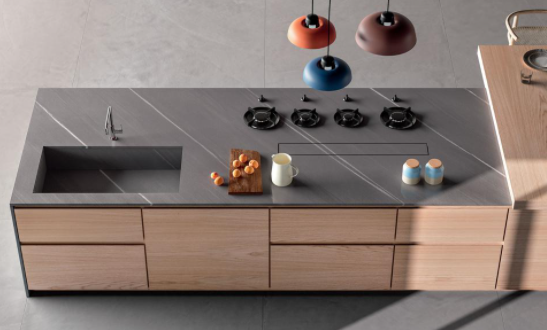 In all of these areas of your home, plus multiple outdoor uses, porcelain is a work-horse material with a thoroughbred pedigree!
We invite you to elevate the look and performance of your home with EleVation, EleMar Oregon's line of beautiful porcelain. Our slabs are on display today. Please visit our showroom to see first-hand and learn more about it from our sales team!
The Team At EleMar