The stone industry is unique in many ways. While you may be working through a contractor, builder, designer or floorcovering store, it is the relationship between you and your fabricator that will make the real difference in your kitchen/bathroom remodel or new build.
At EleMar Oregon, our purpose is to walk you through the wondrous world of stone!  From Marble, Granite, Quartzite and Soapstone to Quartz and the latest introduction of Porcelain slabs, we educate you on your choices, provide some design ideas if needed, while we work hand-in-hand with your fabricator to prepare you for the highly specialized fabrication process.   All countertop and backsplash installations depend on the artistry and technical knowledge of your fabricator!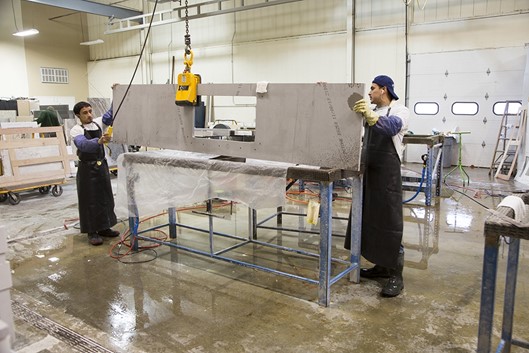 STEP 1: CHOOSE A REPUTABLE FABRICATOR! QUESTIONS TO ASK!
Are you licensed and bonded with a current CCB? 
How long have you been in the industry? 
Do you have a portfolio of your past projects and references? 
Do you have a showroom and on-site shop or do you farm out your projects to other fabricators?  
Do you allow me to participate in the templating of my slabs? 
How many slabs will my project require? 
How long do you think the installation will take and how soon can you get to my project? 
What does my quote include and what is not included?  Do you reinforce cutouts?    
STEP 2:  INSPECTING THE SLAB
You've chosen your material at EleMar and we have inspected the material here before sending it to your chosen fabricator.  If it is a natural stone, it is just that: natural.  There will be unique characteristics, each voicing the tumultuous geological journey the stone has taken over eons of time and conditions.  These might include dry seams, resin fill, pits, fissures, directional veining, feldspar, mica, quartz and other mineral inclusions.  Perhaps you might find a formation within the stone you aren't fond of.  It is the job of the fabricator to first inspect and work with you to highlight those sections of the slab you love and work around those you want to avoid.  This collaboration will help the fabricator give you the finished product you desire.  Today, there are sophisticated computer-aided design software that many fabricators use to help you visualize your finished product.
STEP 3: TEMPLATING YOUR LAYOUT
This critical step in creating and cutting the template(s) is important to help you visualize your countertops prior to the actual cutting of the stone. You should see appropriate vein direction and flow. Corners or long runs should also reflect the beauty of the stone with the continuation of the vein pattern.
This is why your fabricator usually requests in-sequence slab numbers. Sequential slabs are those that are in the subsequent order they were cut from in the block. "Book-matched" slabs takes that a step further. They have been polished, honed or leathered after slicing the block like a loaf of bread at the quarry level. From there, every other slab within the same block is flipped and finished on the opposite side from the previous slab. This creates a butterfly effect! This useful step taken by the quarry provides the fabricator the opportunity to continue the vein formations and inclusion patterns to flow without interruption on your counters if seams come into play. This step, by far, demonstrates the artistry and experience your fabricator has in maximizing the true beauty in your stone. By choosing sequential slabs at EleMar, you have made a real friend of your fabricator!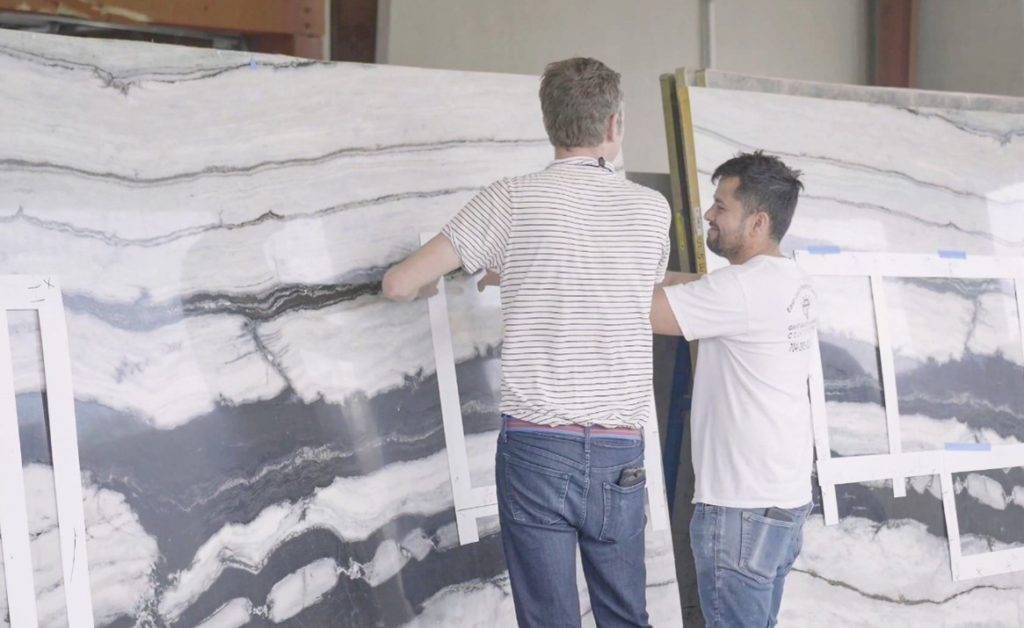 STEP 4: CUTTING THE STONE
There are two types of saws being used in the industry today: bridge saws or water jet saws.
The bridge saw cuts with a diamond blade at a feed rate of about seven (7) feet per minute and can only cut straight lines.  While this is the conventional saw that has been used for decades, it is still widely used by small fabrication shops and continues to be the reliable "work horse" of the industry.
The one most used today in larger fabrication shops is the Computer Numerical Control (CNC) saw jet which is a combination water jet and saw.    It cuts at a feed rate of one (1) foot per minute and can tolerate varying shapes, radius cuts and custom stone designs.    The CNC machine has ushered in an entirely new era of stone design capabilities.  This cutting-edge robotic technology provides greater freedom of design, quality control and much greater accuracy of stone shaping and final fit and finish.  It also, surprisingly, is very cost effective, achieves a very fine tolerance, relieving the fabricator of follow-up processes and longer lead times.  More time means room for taking on more projects, while you are rewarded with a precision-cut work of art on your countertops!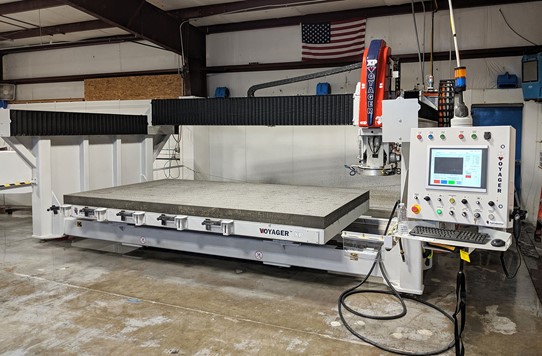 STEP 5:  FABRICATING
In this phase of the fabrication, the cutouts for sinks, cooktops or faucet holes are cut once each specific part is cut within 1/16th of an inch of its final size.  This delicate process requires an experienced CNC operator where programming meets accuracy.  They only want ONE CUT!  Following this step, the edge is shaped to your specifications before final polish.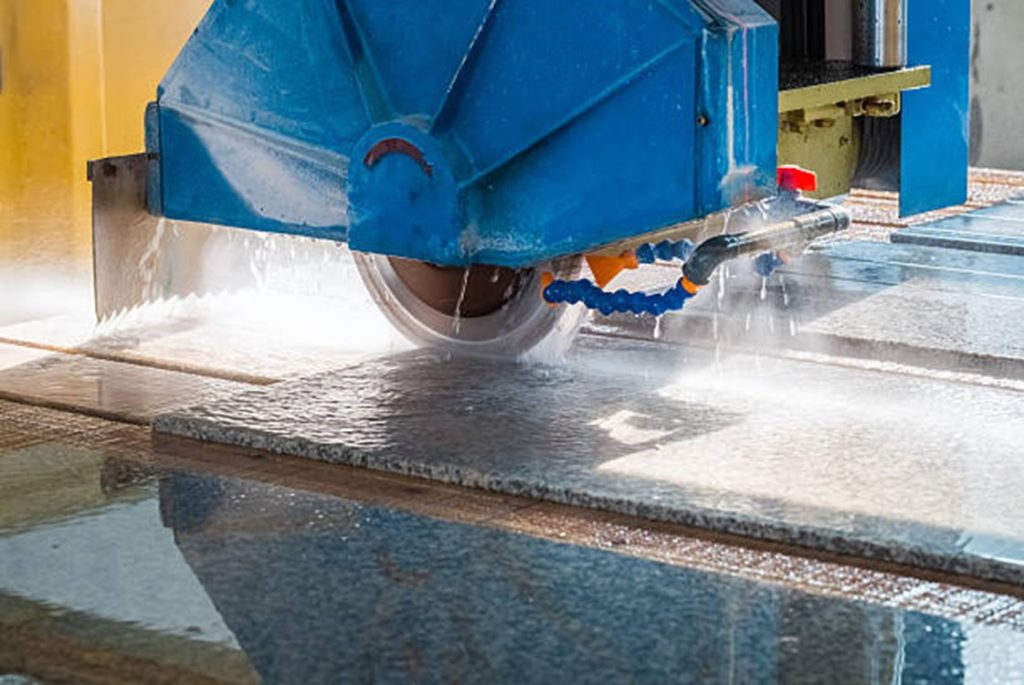 STEP 6:  POLISHING
The polishing of your slabs requires a 7-step process.  The industry standard is to use diamond polishing pads.  The sandpaper gradually increases from a grit of 50 up to 3,000 to polish the edge.  The CNC shapes and polishes at the same time, leaving the edge beautifully finished.  This process would also be used if your slab ever becomes damaged and needs repair.  Yes, natural stone can be repaired.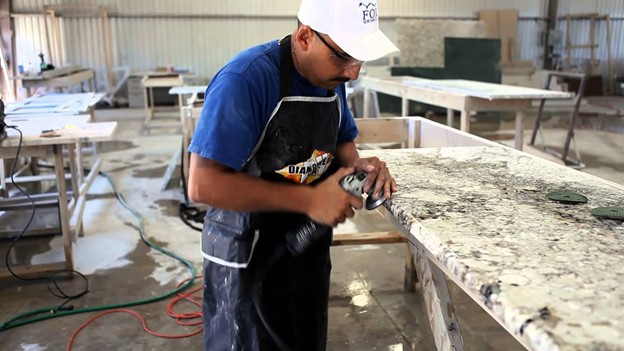 STEP 7: SEAMING
During this phase, the edges of the stone are ground to remove any visible microchipping and achieve the best and tightest seam possible.  Seams should be flat, smooth and approximately 1/16" wide.  A good seaming job will be nearly invisible.
STEP 8:  SEALING
Your countertops are ready to be installed.  Most granites and quartzites are 90% impervious to moisture.  By applying one coat of sealant, the rate increases to 96-97%.  This is basically a seal it and forget it step.  Today's sealants on the market usually have a 10 to 20 year warranty.  It is also a job you can do yourself.  A quick visit to your local home improvement store and applying it yourself will do the job.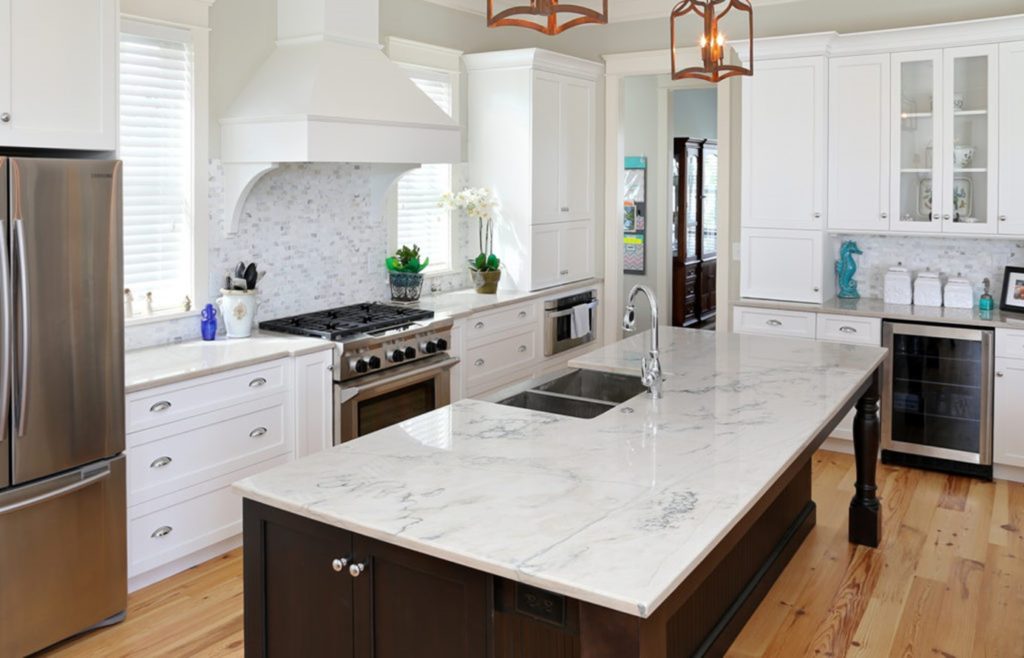 STEP 9:  ENJOY!
Natural stone countertops are, in the end, a work of art conceived through attention to detail, professional experience, technology, and Nature's astonishing geological storytelling.
We at EleMar Oregon take our role in the design of your project seriously. Your fabricator choice can come from a contractor or builder if you are working through one, a designer or architect, or if necessary, we can provide you a list of those professionals with whom we have long-standing relationships. Just ask for a list of those businesses. We recommend calling at least 2-3 names.
We hope this helps you better understand the fabrication process for your kitchen and/or bathroom counters and how important it is to secure a true professional before you begin your project.  With the right stone in the hands of a competent and creative fabricator, you will have years of enjoyment from their work.
The Team at EleMar Oregon!